Introduction
When a person picks interest in golf, he or she is quickly made aware of how important it is to have your equipment. There is various equipment that is utilized in the game of golf, some of which include woods, putters, hybrids, golf balls and even golf bags. However, the most important equipment you would need as a golf player is your irons. Irons help you to take straight, strong shots. Golf irons make up the bulk of your set, and if you are a beginner golfer, this would be the ideal equipment to buy first. There are many suitable irons on the market, and it is most likely that you have made research and you have been seeing manufacturers like TaylorMade, Wilson and Callaway come up. While these are excellent manufacturers who have earned their brands some recognition, there are other reliable irons that you can consider trying out. Although these products might not have the pleasure of a big name, they offer amazing value which is ultimately worth your consideration. One of such products is this Ping rapture irons. Ping Rapture Irons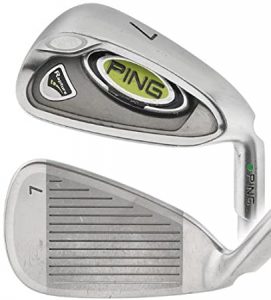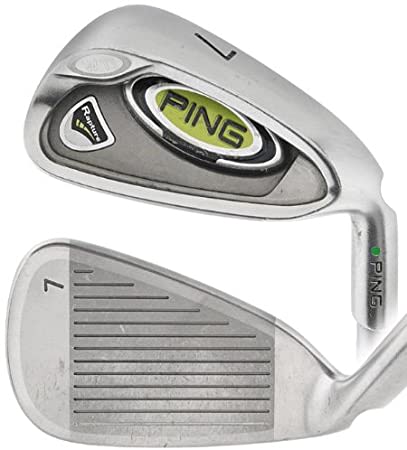 The ping rapture irons have been uniquely designed to serve a unique set of golfers. These are the intermediate golfers and the experts. Often, we see that golf sets are being manufactured for beginners. Well, if you are a more advanced male golfer looking for a set of irons to help improve your game, then you should consider getting this set. It utilizes many advanced features and technologies which, when combined, helps you to become a better golfer. Although the flex is stiff, it is light enough for the average male golfer. These irons are made from multiple materials which combine to make it durable and appropriate for you. You should check out some of its amazing features. Chances are you would be impressed nine times out of ten.
Key Features
Utilizes a lightweight titanium face
Although titanium is mostly used to manufacture drivers, it was used in the production of this iron set. What this means is that it has a lightweight design that makes room for a larger face which ultimately increases the size of the sweet spot and allows you to have more forgiveness on mishits. It also hits the ball pretty well and hard.
Possesses a 17-4 stainless steel body
If you have a strong swing speed, then this product is just right for you. Stainless steel irons are usually heavier than graphite ones, and so, these irons are suitable for intermediate to professional male golfers who possess a more than average swing speed. Stainless steel irons also allow for the excellent feedback.
Utilizes high-density tungsten toe weight
This irons also contains high-density tungsten. This allows for a lower centre of gravity which ultimately brings about increased stability in the golf irons and better forgiveness on your shots. This means you can swing your iron with more assurance and confidence.
Uses a stiff flex
This golf iron also utilizes stiff flex. If you are a golfer with high swing speed, then this iron will do nicely. You would be able to control your shots better and hit with increased accuracy.
Contains a soft elastomer insert.
Even though these irons already have excellent feedback, they are also infused with a soft elastomer that gives of a wonderful feel and a nice sound when you strike the ball.
Suitable for intermediate to professional golfers
For golfers who are considered mid-level expertise upward, this golf iron is suitable for you. It works better if you are an athletic man with high swing speed and record distance. All the features above have pointed to the fact that this iron was designed for the more advanced golfers.
Specifications
Brand name: Ping
Hand Orientation: Right
Men's iron set
Pros
Excellent set for game improvement
Most golf sets are targeted at beginners. Probably because its only beginners and pros that buy golf set steadily. However, if you are an intermediate player who has mastered the ins and outs of golf and you are in the market for a set of irons that will help push your game performance up, then this is the right product for you. These irons are made from multiple materials that combine to help you play the game better.
Speaking about many materials, these irons utilize a lightweight titanium face and high-density tungsten weight that ultimately allows you to experience more forgiveness on mishits. When you hit the ball at the wrong angle, you can be sure that your speed and distance are maintained.
Gives you more distance on your shots.
These irons have a low centre of gravity and an overall structure that makes it easy to gain more distance on your shots. The lightweight titanium face also helps you shoot straighter and more stable shots. It also utilizes a stiff flex which means your strength and your swing speed will determine the impact on the ball.
Golf irons have excellent feedback and feel.
One of the more enjoyable reasons to get this iron set is because it gives off excellent feedback when you strike your ball. You can also forget about stuff like vibrations and bruises on your palm because the irons have a more significant custom tuning port and a soft elastomer insert that ultimately allow you to enjoy holding your iron. The sound that it gives off on impact is also excellent.
Durable; lasts very long
This product is also durable and long-lasting. Like we have already established, this golf set is made from various materials, and this makes it the perfect irons to take you through your golfing journey. Besides, it is designed to withstand the strength of intermediate and expert golf players.
Easy to launch
These irons are also easy to launch. Although the flex of this golf iron is stiff, it is also lightweight, and it allows golfers to swing and hit their balls easily.
Cons
The iron set doesn't come with a bag.
Most golf sets, whether complete or otherwise, often come with a bag. However, this iron set will require you to purchase a golf bag separately.
Not suitable for beginners and seniors.
Although this set is excellent for people with consistent swing speed, it will be inappropriate for older citizens and beginners. Due to its stiff flex, some golfers might find it harder to swing. However, if you do master the irons, you would be glad you did.
Conclusion
Undoubtedly, irons are an essential part of your golf set. As an intermediate or professional player, you still have to keep working on your game to become a pro. At this level it is expected that your skillset would be well advanced, so you have to drop the comfortable equipment. These Ping rapture irons have been decided to stretch your abilities further and improve your game as a whole. Perhaps you are having second thoughts because this product does not carry with it a big name; you can rest assured that you are getting the best at quite an affordable price. If you love this product and it suits your needs, I would advise that you do further research and get this product. Enjoy golf!