Introduction
When we step into stores to purchase items, most times we normally go for the visible items; albeit the ones on the top shelf. However, other products can give you better satisfaction than the ones you are used to. Golf is a very interesting sport, and it requires you to utilize a lot of equipment. Normally, the obvious option would be to opt for the most visible products. However, if you take your time to research and find other less popular products, you would see one that is more affordable and well suited to meet your needs. This is the case of this Adams Idea A12 OS iron set. Even though this golf set does not have the pleasure of a famous brand name like Wilson or Callaway, its unique features are enough to convince any golfer to get them. If you play golf leisurely or you are a beginner golfer, and you want to get iron set for an affordable price, then this would be a good product to consider.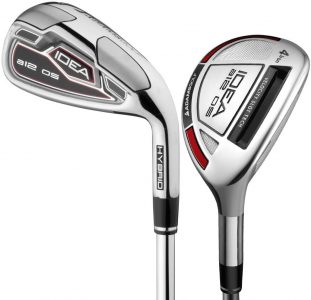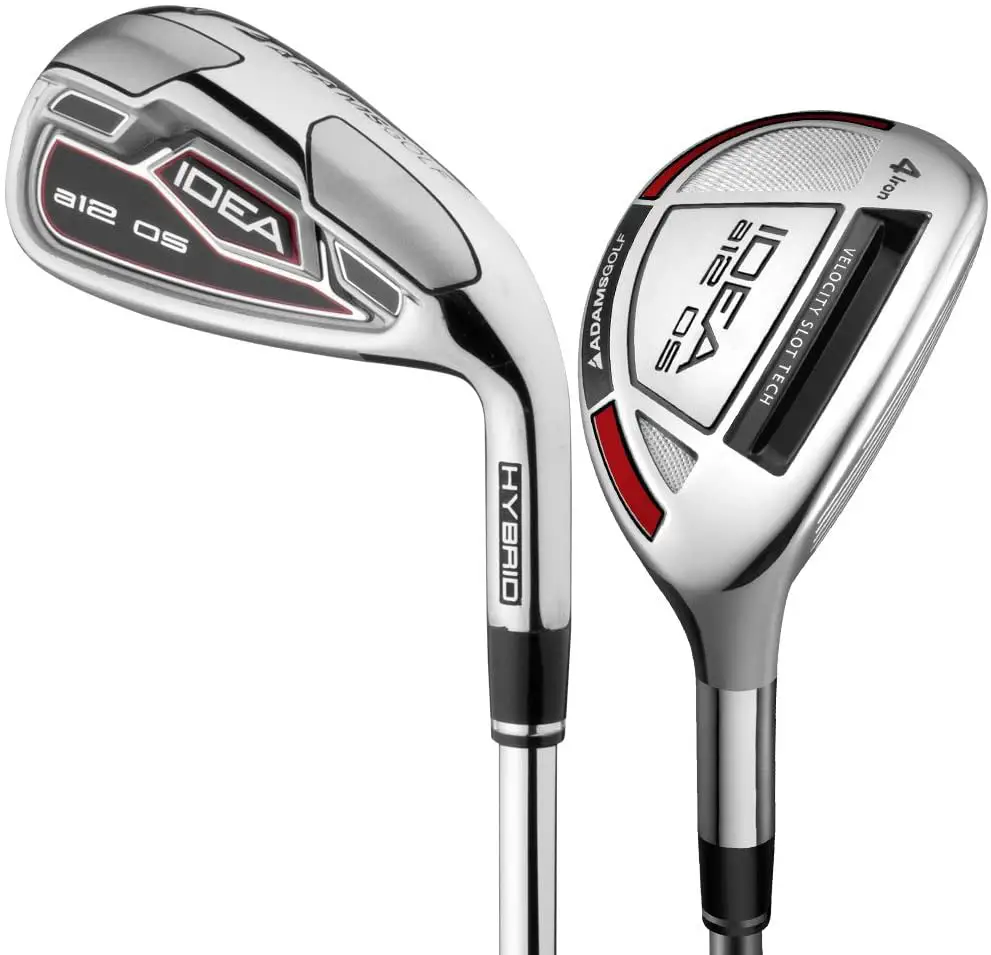 There are a lot of iron sets on the market today. However, unlike other iron sets, you have come across; this one is significantly different. The first thing you need to note is that this is not just an iron set but a hybrid iron set. What this means is that you get a set that combines both irons and hybrids. Perhaps you are limited by money, and you have been brainstorming on how to get both irons and hybrids at an affordable price, well, today is your lucky day. The composition of this set includes sizes 4 to 6 hybrids, sizes 7-9 irons, a pitching wedge and a gap wedge. This unique combination of clubs utilizes velocity slot technology that allows for more forgiveness and allows you to gain more distance on your shots. Though this golf set might seem a little far out from the regular, you should check it out and probably give it a try.
Key Features
8-club golf set
This golf set is unique. It combines both hybrids and irons and gives them to you in one single package. It even comes with a gap wedge. As a golfer, if you own sizes 4 to 6 hybrids and you also own a pitching wedge and sizes 7 to 9 irons, then you are good to go. As long as you are not a touring professional, this golf set will serve you well on the golf course. It is also good to note that these transitional hybrids are patented.
Utilizes velocity slot technology
One of the more distinct features of this hybrid iron set is its patented velocity slot technology. What this means is that when you use any of these clubs to strike your ball, it bounces off the whole face of the clubhead. This process allows for more forgiveness on mishits and also allows for a higher launch.
Lightweight clubs
The shafts of the irons are made from steel while those of the hybrids are made from graphite. Ultimately, both of them are easy to carry and swing. They also have a very nice feel. The flex is regular; which means that golfers with average or slower swing speeds can get more energy on their swings.
Suitable for beginners and intermediate players
If you are looking to improve your game, then this would be a good set to purchase, aside from the fact that this club offers more forgiveness. It also allows you to gain more distance on your shots and it gives you greater control on your swings.
Great set for practice.
This set is also perfect for training. If you are looking to become a professional player, you would have to train regularly. It only makes sense for you to get an affordable set that offers you a variety of irons and hybrids.
Specifications
Brand name: Adams
Hand orientation: Right
Pros
Helps with game improvement
These clubs help to improve your golfing. One area where these golf clubs stand out from others is in how much forgiveness it offers. The hybrids utilize a special technology that allows you to launch your ball with ease, and the overall design of the clubs is structured to give you better swing control. It also has a nice feel. These clubs allow you to achieve consistent results with little or no stress.
Designed to give more distance on your shots
If there is one thing any golfer wants, it is more distance on their shots. This golf set contains clubs that are easy to swing and control. Their lightweight properties allow you to hit them with ease. After playing with this irons and hybrids for a few times, you would see a significant increase in your ball speed, altitude and distance. In addition to this, you would also be able to shoot straighter shots.
Great quality at affordable price
This would perhaps be one of the major selling points of this product. Even though this product is "cheap", it does not make up for the reduced price in terms of quality. Multiple customers have reviewed this golf set, and they all seemed to reach a consensus that these golf clubs are very durable and long-lasting, Brands like Wilson. TaylorMade and Callaway products might seem too expensive to someone without a major interest in golf; however, with just a few bucks, you could own a set almost as good.
Multipurpose set.
Another benefit you would enjoy from getting this golf set is its versatility. Unlike most iron sets that contain only iron clubs, this set has uniquely replaced the sizes 4 to 9 irons with hybrids. Beginners often stress that irons might be inappropriate for some unique shots. However, with your hybrids, you can attempt a variety of shots with greater confidence.
No negative feedbacks
This product has a smooth feel, and the sound that it produces when you strike your ball is nice. Another good thing is that when you strike your ball, the vibrations that usually make the hand uncomfortable are almost non-existent. They utilize soft grips that also makes them easy to hold.
Cons
Doesn't come with a bag.
You are going to have to purchase a golf bag to store and transport this product effectively.
Southpaws can't use this set.
If you are left-handed, then this product is not for you.
Conclusion
If you are a beginner and you are looking to get a product that can serve you well on the golf course, then this product will be a good buy. We have outlined the unique features of this product along with its advantages and disadvantages, and it is obvious this product might not service a professional well. However, as a beginner or an average golfer, this golf set is perfect. They are also very affordable, which means that you can comfortably use this set and enjoy it until you are ready to get a complete golf set. Like we have always said, golf is a very interesting game but playing it with the right equipment makes it even better. If you go ahead and buy this product, we can assure you of zero regrets. Enjoy golf!