Introduction
Preparing to go to a sports field is like preparing to go to the office. You have to carry your files which in the case of golf, can be likened to your golf irons. You would also need to carry some pen and gadget along; you can assume these are your woods, hybrids and other equipment. The bottom-line boils down to the fact that for you to effectively transport all these items, you need a suitable carrier equipment. This carrier is known as the golf bag.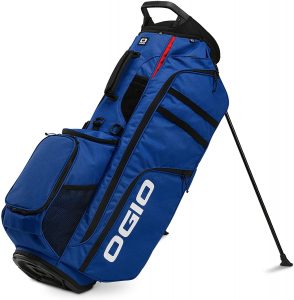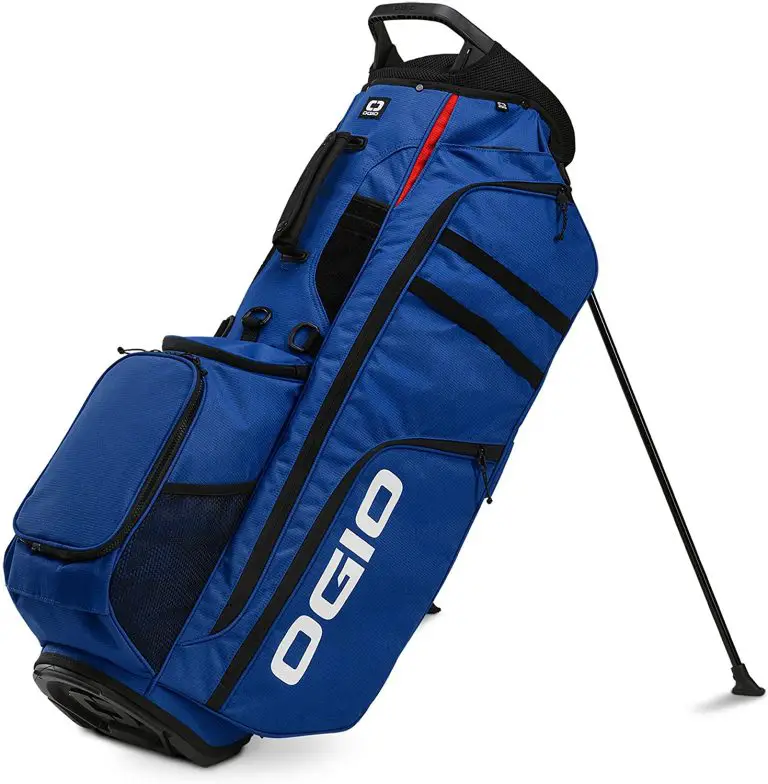 For a golf bag to be considered suitable, it most possesses certain features. Some of these features include durability and large spaces. However, the most essential feature of any bag is its lightweight design. A bag that is built in a way that makes it comfortable for the user to carry and transport is known as a lightweight bag. Pros and golfers at all levels have always preferred to go for the lightest golf bag on the market. If you are a golfer looking to buy a light stand bag, then this review is especially for you. Check out this light stand bag manufactured by Ogio: Ogio 2020 Convoy SE Stand Bag
Key Features
They are designed for massive storage.
This stand bag is uniquely designed to handle various equipment and materials. However, its lightweight fabric, coupled with his design structure makes it easy to carry and transport as you wish. It also right to note that this bag possesses a 14-way top that is specially designed to house irons and an extra-large putter.
Contains 11 pockets
This bag comes with multiple pockets. This means that you can store anything from wristwatches to ATM cards. You can be sure that all your personal belongings and valuables are safe.
Comes with an insulated water bottle pocket, a removable ball pocket panel, a tee holder, an umbrella holder and a Velcro golf patch
All these additions are designed to make the bag as spacious and contained as possible. The idea is for you to have a space to carry everything you need on the golf course
Adjustable double shoulder straps
This is one of the parts of this bag that makes it so easy to carry. You can easily adjust the straps to fit your shoulder size. The carry mechanism also makes it easy on the back
Specifications
Brand name: Ogio
Weight: 5.8 lbs.
Pros
Lightweight bag
This bag is easy to carry regardless of the size. It also comes with support mechanisms which help to keep the back muscles free from tension.
Very spacious
As long as you are taking it to the golf course, it can fit in this bag. There is plenty of storage space for your golf equipment and some extra space for stuff like valuables and even cold drinks. In simpler terms, this bag has got you covered.
Durable
The fabric of this product is lightweight, and it is also made from high-quality materials. When you can buy this bag, you can be sure that it will serve for a considerable period.
Affordable
Apart from the fact that this product gives you more amazing features and higher quality, it is also not expensive. You can get it and rest assured; you would not need another for a long time
Well-balanced
The bag has a different orientation and design that keeps it well balanced. Whether the bag is on your back, on a cart or the ground, it is always well-balanced
Cons
This bag might not be suitable for golfers who are still training or are yet to get an extensive set of equipment.
Conclusion
Buying a good golf bag will help you move your golf clubs around more easily. Depending on your needs, a good golf bag can be large and spacious or small and compact. The one feature that you must look out for when you want to buy a bag is its weight. If it is lightweight, then it is good to go. Lightweight bags are easier on the muscles and less difficult to transport. This Ogio manufactured bag that we just reviewed might be spacious and large, but it is also very lightweight and perfectly capable of serving your needs.[/vc_column_text][/vc_column][/vc_row]