Introduction
There are a lot of golf equipment and accessories manufacturers today. Expectedly, there are big names in the industry. Some of these names include Wilson, Callaway and TaylorMade. However, if you don't want to buy any of these products, probably due to budget constraints or personal experience, there are some smaller powerhouses that you can decide to patronize. One of them is Tour Edge. Over the years, Tour Edge has emerged as a respected golf equipment manufacturer due to its consistent production of reliable, functional and excellent equipment. In this review, we are going to be taking a special look at two of those special products. One of them is the Tour Edge Bazooka 360 senior full set, and the other one is the Tour Edge Bazooka 260 men's set. Although these two golf sets are excellent for any golfer, they are also unique in their ways. We have put this review together to show you what you will enjoy when you purchase any of these sets. Enjoy!
1. Tour Edge Bazooka Golf Sets
If you are a beginner, you should consider getting this golf set. However, if you are a senior and a beginner, then this product is just right for you. It contains all the necessary equipment you would need to improve your golf game, and it is made from high-quality materials. The excellent quality is also accompanied with a reasonable price. Although this club set was designed for right-handed male golfers, a special set is available for the left-handed folks. All these clubs utilize shafts made from graphite and steel.
This set comes with an oversized 460cc titanium matrix driver. The driver is one of the largest on the market. Ultimately, it offers you more forgiveness on mishits and allows you to gain greater distance on your shots.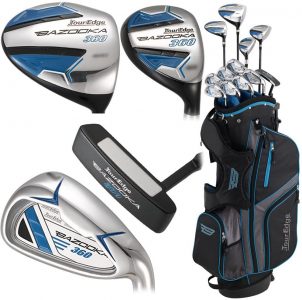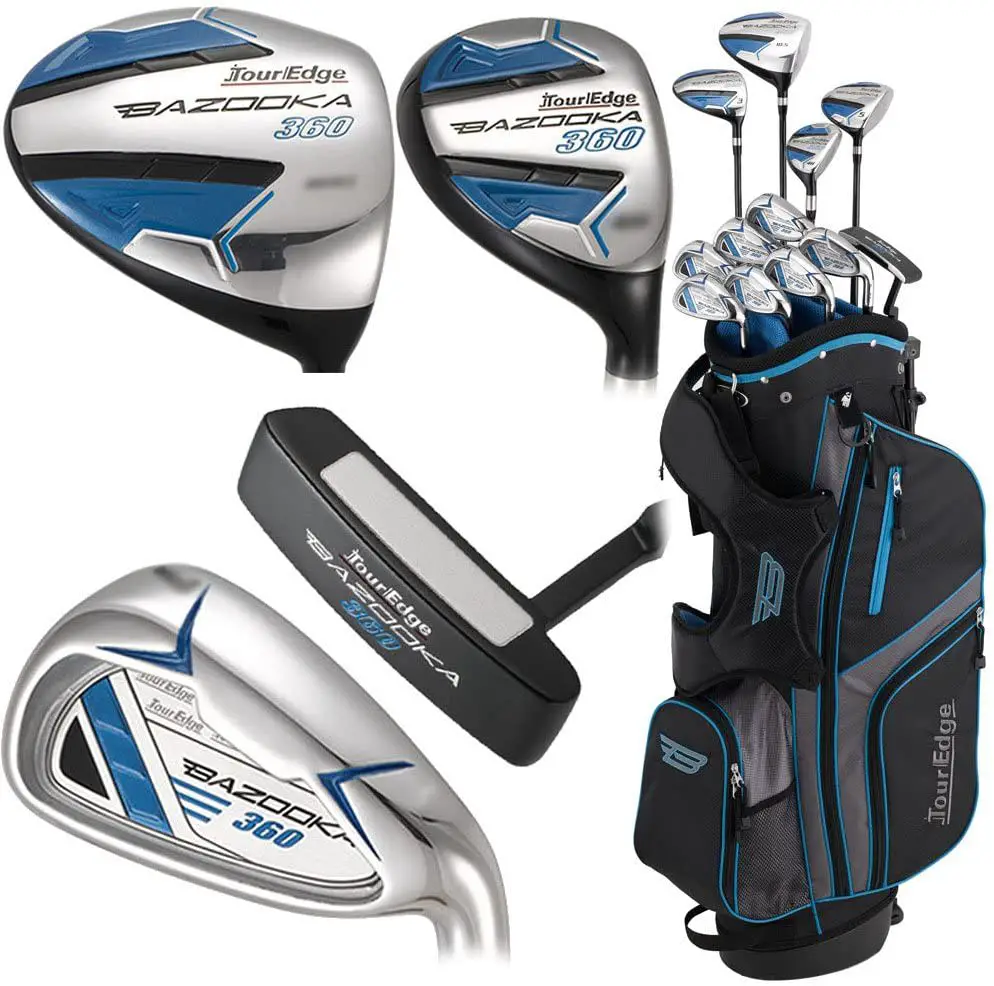 This golf set also contains a size 3 and 5 fairway wood that allows you to strike your ball easily. These woods give you the chance to play your ball from any position on the golf course. They are also lightweight and also very forgiving.
Another excellent equipment that this product comes with is a size 4 hybrid. The hybrid utilizes a stainless-steel head, and it has been uniquely designed with a low-profile design that makes you hit difficult shots with ease. The long irons might be a little harder to hit, and it may take a while for a beginner to master. Even then, some variety of shots might require a hybrid for you to take them effectively.
As a golfer, whether you are a beginner or a professional, you would surely need irons. This golf set comes with an excellent collection of irons that you would want to have. They contain sizes 5 through to 9 irons, and they also come with a sand wedge. These irons are made from stainless steel, and they are uniquely designed with heel and toe weighting, which allows for a lower centre of gravity. It also has an undercut cavity that makes room for a larger sweet spot and more accurate shots. You would enjoy using them in the long run.
If your golf set is missing a putter, then it is not complete. A putter allows you to hit shorter distance shots with increased accuracy. For this particular golf set, the putter it comes with has been uniquely designed with special features that allow you to utilize the club better. The putter has an easy to use alignment aid that gives room for more accurate setup and better finishing.
It also comes with headcovers and a lightweight stand bag. You don't have to worry about purchasing a bag separately. Like we said earlier, it is a complete golf set.
Pros
Suitable for beginners. Helps to improve your game.
Lightweight clubs. Suitable for seniors.
Allows for more forgiveness.
Gives you more distance on your shots.
Affordable. Excellent price for this set.
Cons
The bag might not be the highest quality.
As a beginner golfer, if you are looking for a set that is relatively cheap and effective, then this is your best bet. Although this product is very affordable, the quality was not sacrificed to achieve that. This product comes with a lifetime warranty, and it is uniquely designed with game improvement technology that helps golfers to achieve maximum performance. Rest assured; this full 15-piece package set is just what you need.
Like the first product on this review, this golf set contains a 460cc titanium matrix driver that ultimately allows you to take longer and straighter shots. The large sweet spot on the clubhead also makes room for more forgiveness on mishits. You would love this driver.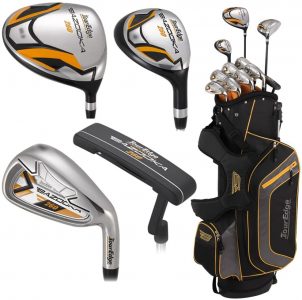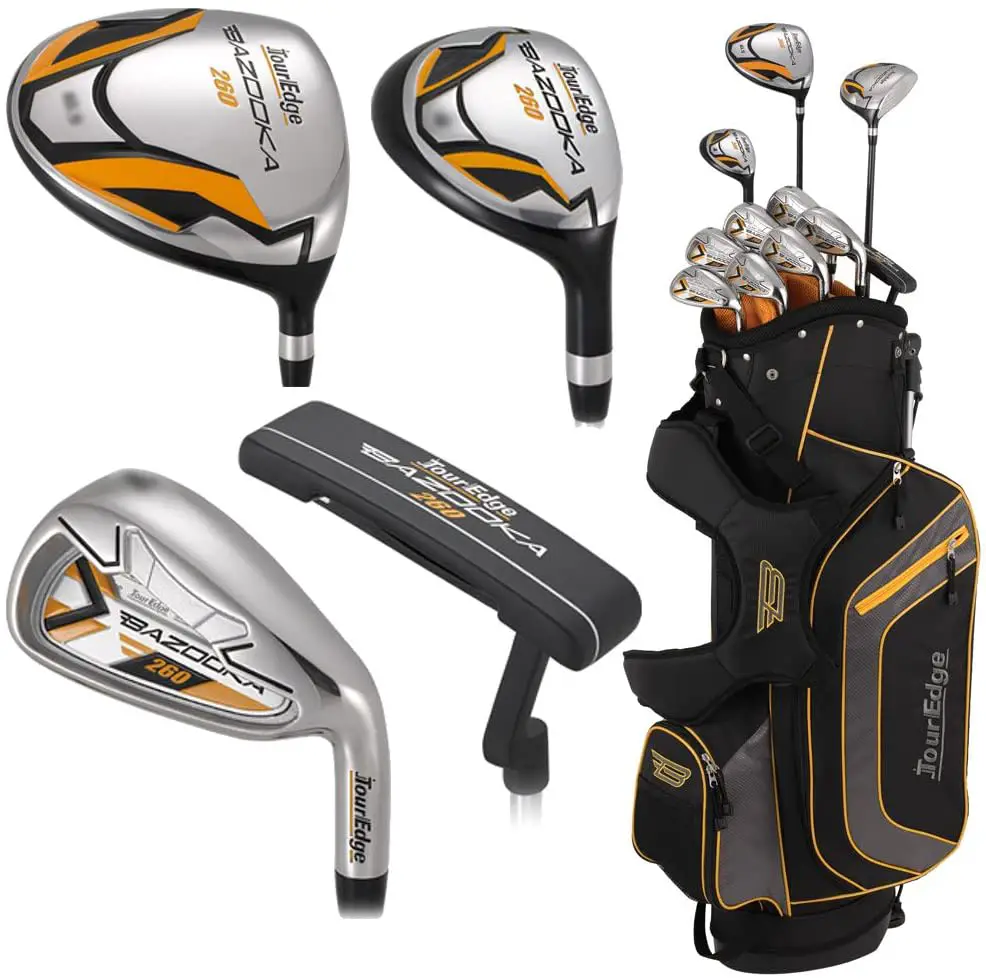 This set also contains a fairway wood that has been uniquely designed to hit off the course and produce high flying, accurate shots. When we say this fairway wood is uniquely designed, we are referring to the fact that they have a low centre of gravity which allows you to easily swing it and get the right angle on your shots. It also helps that they are lightweight.
A hybrid is a very important club for a beginner because your irons may not be well- suited to take certain shots for you. However, with this hybrid, you can take wonderful shots from a variety of angles. This hybrid is also very forgiving, and it has a low centre of gravity that makes swinging and hitting your ball relatively easy.
It would also be good to note that the irons are oversized and are made from stainless steel. They have an undercut cavity that allows for a larger sweet spot and therefore, more forgiveness on mishits.
This set also has a putter that utilizes an easy to use alignment aid. This means that you can hit your ball with increased accuracy and putt with ease.
This set also comes with headcovers for the driver, 3-wood, hybrid and putter. The bag is also a lot better than that of the 360-set. It is a lightweight, dual-strap stand bag.
Pros
Suitable for beginners and leisure golfers.
The clubs have an excellent feel.
The clubs are very forgiving.
They help you gain more distance on your shots.
The stand bag comes with many amazing features.
Affordable product at a great price.
Cons
You might have to change the driver if you don't like it.
Conclusion
The two products that have been reviewed above are both excellent golf sets manufactured by Tour Edge. Although the features of the 360-set look more appealing, it is also more expensive. Ultimately, it is going to boil down to what you are looking for from your set. If you are a beginner golfer that plays golf leisurely, then the 260-set will probably serve you better while also conserving your resources. However, if you a beginner in golf and you are also a senior, it would be better if you considered buying the 360-set. It might be a bit on the upside financially, but it is definitely worth the buy. Golf is a very interesting sport, and having an equipment set that fits you perfectly will help you appreciate and love the game more. Enjoy!