Introduction
Golf is a member of the family of sports that can be considered as all-inclusive. This sport is suitable for all genders and age groups. It doesn't matter if you are a woman or if you are 80 years old, you can always find a home with golf. This is why, over the decades; manufacturers of golf equipment and accessories have utilized multiple processes and technologies to ensure that everybody has their appropriate equipment. You could even get custom fitted kits if you have the money. However, if you a woman who loves golf and you would like to buy your equipment, we strongly recommend this excellent women's kalea complete golf set manufactured by TaylorMade TaylorMade Kalea Women's Golf Club Set. One unique thing about this golf set is that they utilize slim tech shafts, and they were uniquely designed to optimize the gaps between the clubs so that they can be easily fitted into your bag. The clubs are also lightweight and easily maneuverable; everything perfectly matched to a woman's strength.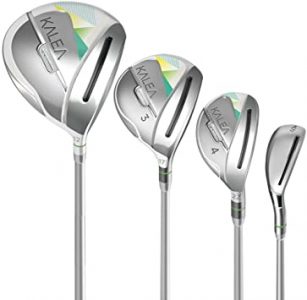 Key Features
Utilizes slim tech shafts.
This TaylorMade golf set is unique because it utilizes uniquely designed slim tech shafts. These shafts allow you to gain more distance on your shots. They also create room for a deep centre of gravity which makes it more convenient to get a better ball flight.
Utilizes speed pocket technology
The speed pocket technology is not new to TaylorMade products. Essentially, this feature allows women to gain more speed on their shots, seeing as they may have slower swing speeds.
Ten-piece golf set
When you purchase this golf set, what you can expect are sizes 6 to 9 irons, sizes 4 and 5 hybrids, a size three wood, a driver, a pitching wedge and a sand wedge. All of these are perfect for any golfer. The only equipment not present is a putter.
Optimized gapping for more comfortable use
The clubheads are uniquely designed in a way that allows them to fit together and line up nicely in any bag. This allows you to quickly find any club you are looking for and use them at will.
Lightweight golf set
All golfers require that their golf clubs be lightweight to a reasonable extent. However, when it comes to women's sets, this is a necessary prerequisite. Because women have slower swing speeds, that is why TaylorMade has made this excellent product to be extra light in weight; you can easily swing your clubs and achieve maximum distance.
Durable; Made from high-quality materials
This golf set might be lightweight and elegant, but it is also very durable. It has been specially crafted to withstand the test of time.
Suitable for all player levels
This golf set has been crafted for average height female golfers. However, this set can serve any lady with any skill level. Whether you are a beginner, intermediate or professional player, this golf set is just right for you.
Specifications
Brand name: TaylorMade
Hand Orientation: Right
Pros
Easy to swing
These clubs are lightweight, which makes them very easy to swing. It is uniquely designed to fit golfers with slower swing speeds. The strength, structure and size of these clubs are also specially made to fit the average female golfer.
Lasts long
This product is made from the best quality materials. You can trust the simple fact that TaylorMade manufactured it.
Helps game improvement
This is probably what you would enjoy most while using this product. This golf set is designed to help golfers maximize their swing, gain more distance on their shots and shoot straighter. It also has a speed pocket technology that allows your ball to go faster in motion, and it will enable you to launch your ball effortlessly from the ground.
Beautiful exterior
This golf set is also designed with an aesthetic touch. It has a lovely exterior that makes gives the owner a stylish look on the golf course.
Great value for an affordable price
This golf set also affords female golfers the opportunity of owning an excellent golf set at a very affordable price. In case you are wondering, it is not cheap, but it is accessible for the quality it brings.
Easy to clean
The golf clubs have a shiny look. All you have to do is use a cloth to wipe off any dirt, and you are good
Cons
Doesn't come with a Putter.
You would have to purchase a golf bag.
Conclusion
If you are a female golfer and you are serious about improving your game, then you would need to purchase a golf set. Whether you have owned one previously or not, this TaylorMade golf set would be a good buy. You can also be sure that no matter what your skill level is, this equipment will serve you perfectly. Enjoy!